Welcome to your new review management platform! In this article, we will show you the different parts of the dashboard to help you get started. You will also learn about the different functionalities that will help you easily manage your reviews. Now, let's get started!

Introduction

Managing your online reviews is as important as managing your business. It doesn't only help you get recognized and retain customer loyalty, but it also helps you market your brand through your customer's feedback. Our review management platform offers the following solutions to help you achieve this:

1. Manage your reviews - The platform allows you to aggregate reviews from different review sites into one dashboard, giving you the convenience to easily manage your reviews using one tool.

2. Generate new reviews - By using this platform, you can easily generate new reviews by asking your customers either through email or SMS.

3. Show off your reviews - This tool can also help you in showing off your reviews to your website or social media accounts. Showing off your reviews will help build your social proof and get more customers.

4. Analyze your reviews - You can also use this platform to analyze your reviews across different review sites and locations to give you an idea of your business performance and competition.

The Dashboard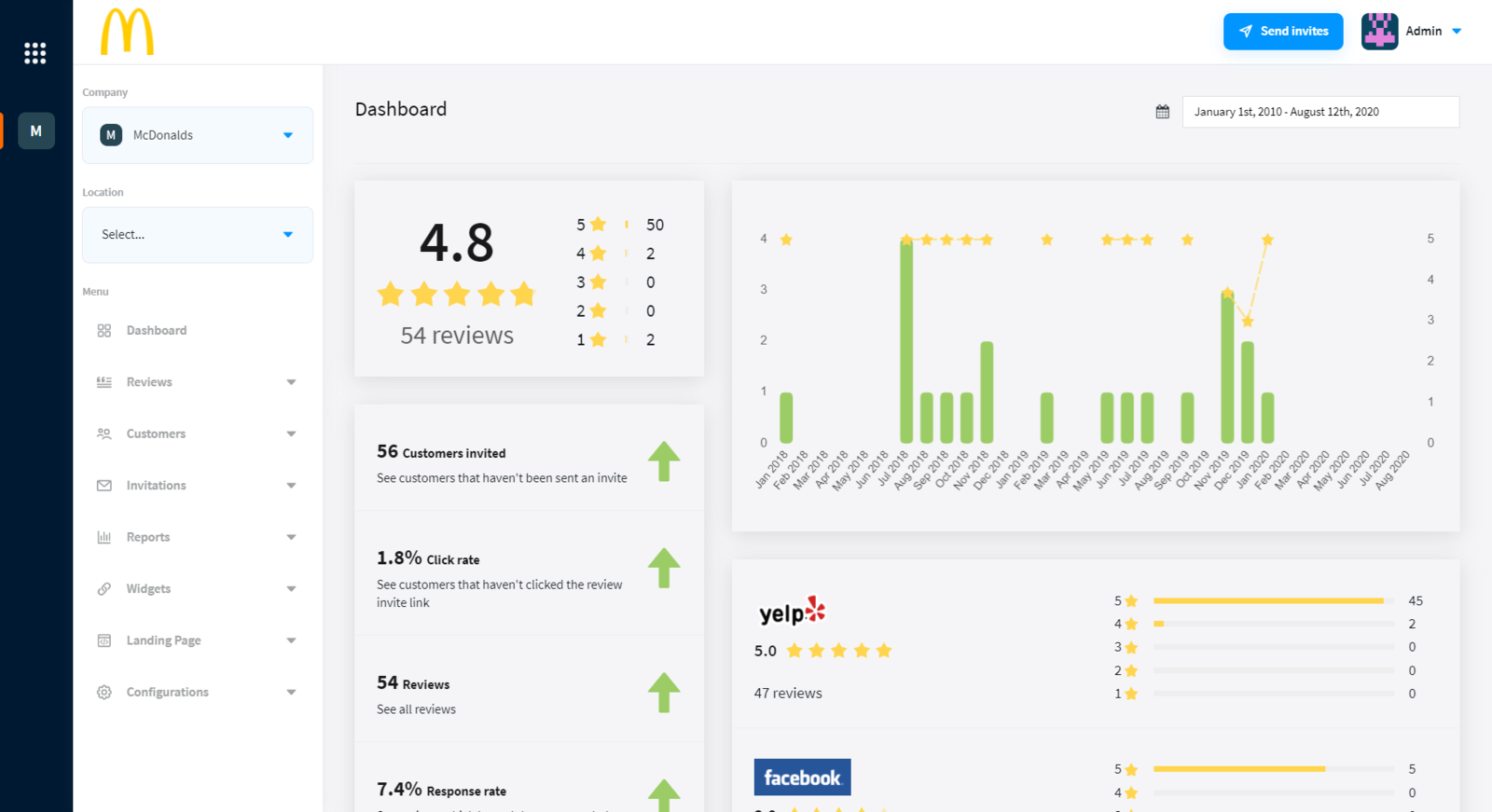 You will see two different dashboards upon logging in to the platform, the Review Dashboard, and the Admin Dashboard. These dashboards will serve as your best friend as you navigate the platform to manage your reviews.

Review Dashboard

This is the main dashboard that you will see right after you logged in. It is where an overview of your ratings and invites will be shown. On the left side, you will see the different dashboard menu that will help you navigate the platform. The menu includes the following tabs:

Company and Location drop-down - For businesses with multiple locations, these drop-down option is where you can switch between different clients, locations, or competitors.

Reviews - This is the tab where you can see and manage your detailed reviews, add your review sources, and set up social sharing to show off your reviews on social media sites such as Facebook, Twitter, and Google post.

Customers - The Customers tab is where you can add and view your customer's information. This is also where you can see your customer's timeline to check if they have already received and opened the invite or if they have already left a review.

Invitations - This is where you can set up and manage your templates, campaigns, and review invitations.

Reports - This menu will come in handy in case you want to analyze your reviews and your business' performance.

Widgets - This is where you can create and get your review widgets to show off your reviews on your website.

Landing Page - This is one of the important tabs on your dashboard's menu and plays a vital role when generating new reviews.

Configurations - This is the tab where you can manage your locations and competitors.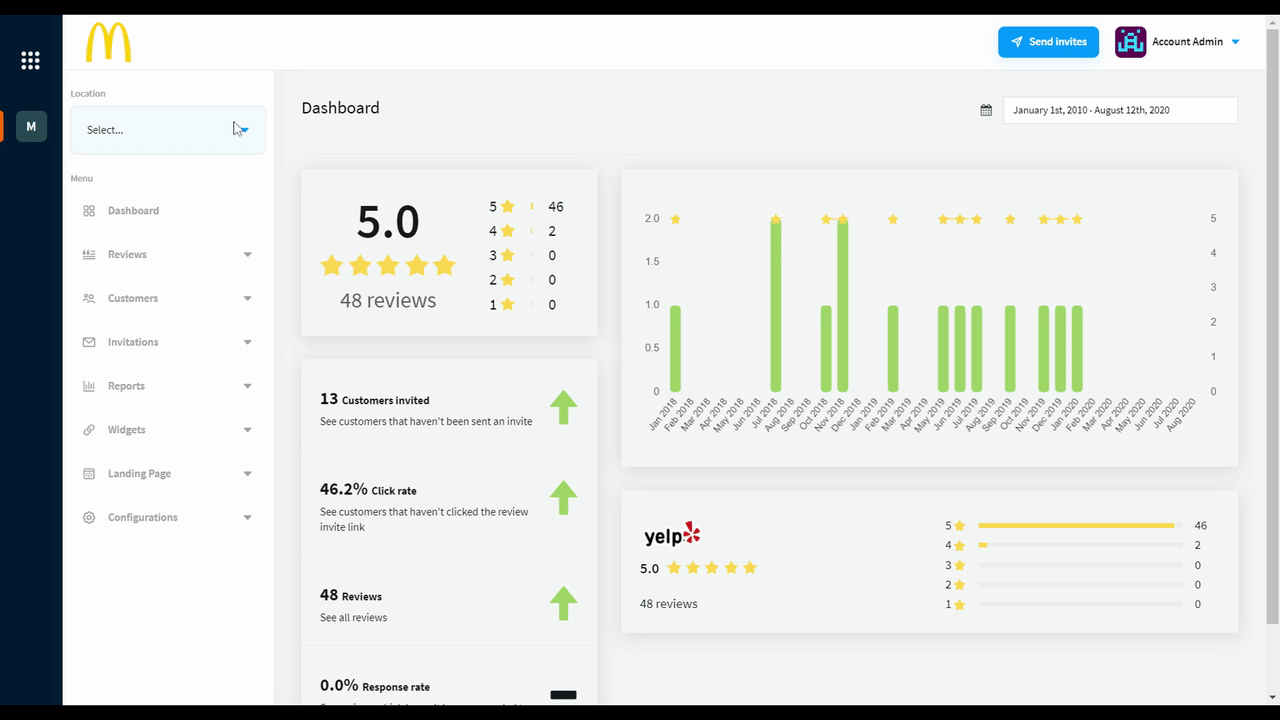 Admin Dashboard

Located on the upper part of the page is your Admin dashboard. This dashboard holds additional settings for managing your reviews. Here are options that you can find on your Admin dashboard:

Send Invites - This is where you can send your review invitations either via email or SMS.

Account drop-down - This is where you can manage your account credentials as well as adjust your notifications.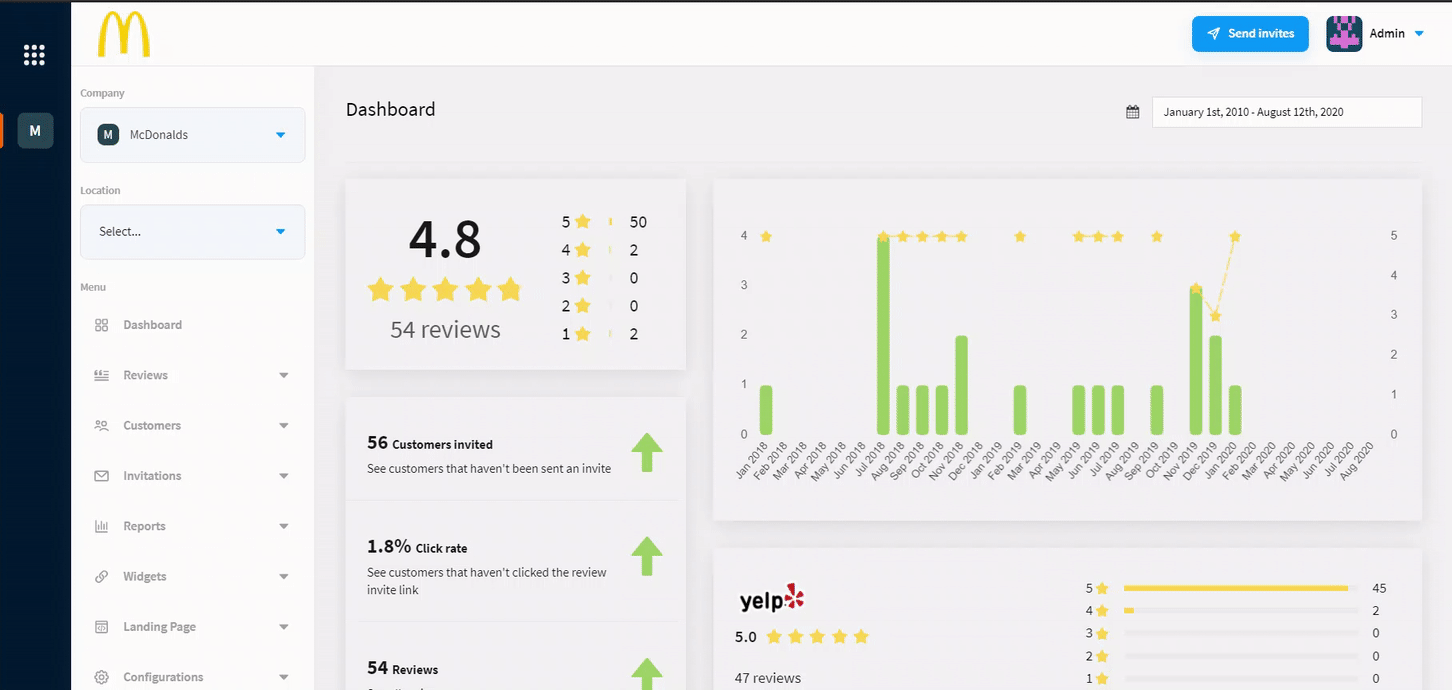 Now that you have an overview of how the platform looks like, the next step is to add your review sources.