3. Send a Review Invite: On the top right corner of the dashboard, click Send Invites.

Next Step: Fill out the New Customer tab.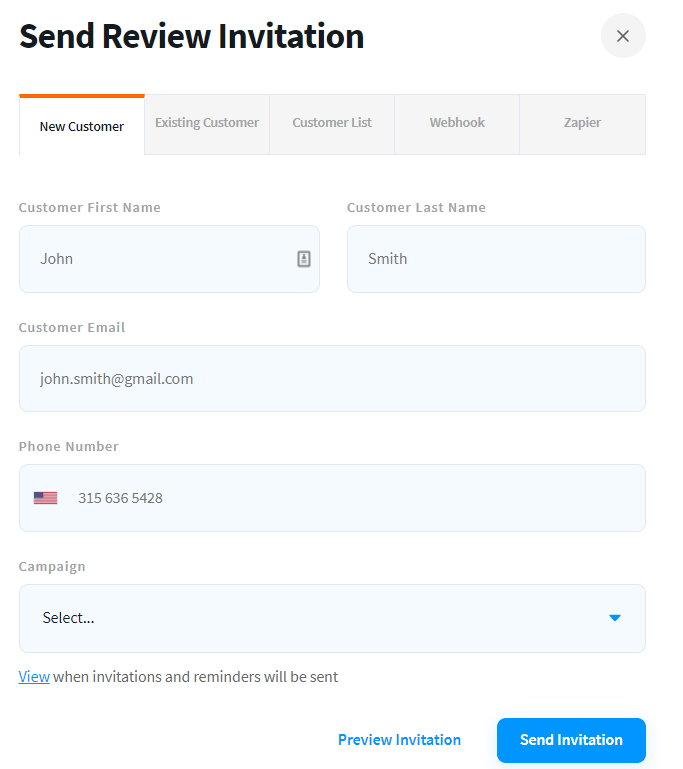 Fill out the following within the New Customer Tab:
Customer First Name

Customer Last Name
Customer Email
Phone Number
Next Step: Select the Standard Campaign.
Choose Standard Campaign from the Campaign dropdown menu.

Next Step: Select the Send Invitation.

Next Step: Review Invitation Confirmation.

A green pop-up box will appear, informing you that the Review invitation has been sent!
What to do Next
Maximize your reviews across the internet by adding your Yelp and Facebook pages to the Review Sources section.
Automatically showcase your reviews on Google, Facebook, and Twitter by connecting your social media accounts.
Save time and send review invites to multiple customers at once with our bulk customer upload feature.

Respond to customer reviews both positive and negative.

Continue to add new customers to the Digitalift Reputation Marketing System.

Consistency is key.
Go To
What Your Customers Experience
Starter Guide
Next Steps: